Duopa is different since it delivers levodopa continuously over 16 hours. This can help you get back more time in your day.
to real Duopa patients and care partners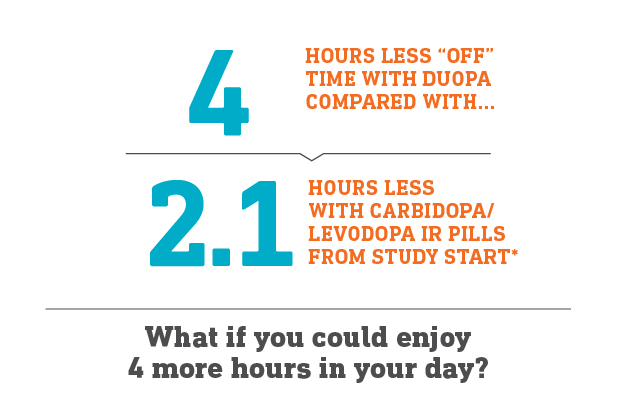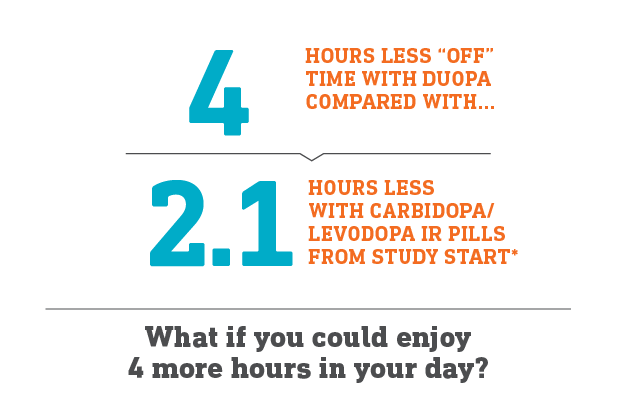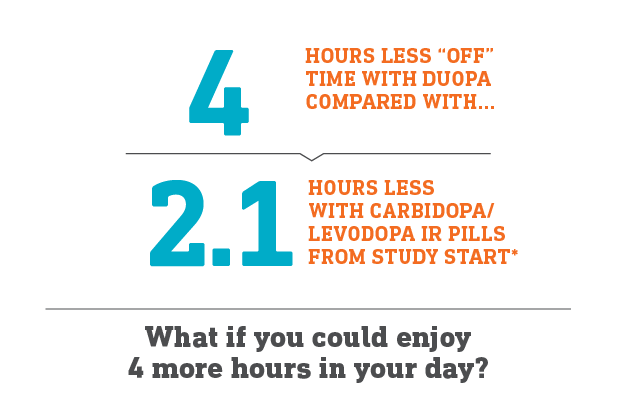 to real Duopa patients and care partners
*In a clinical trial, 71 advanced Parkinson's patients with persistent "off" time, despite taking Parkinson's medications (including carbidopa/levodopa pills), took either Duopa or carbidopa/levodopa immediate-release (IR) pills for 12 weeks. The change in average daily "off" time from study start to Week 12 was measured over 16-hour days during which patients were awake. At study beginning, average daily "off" time: 6.3 hours in Duopa group, 6.9 hours in carbidopa/levodopa IR pill group.
FREES YOU FROM SO MANY LEVODOPA PILLS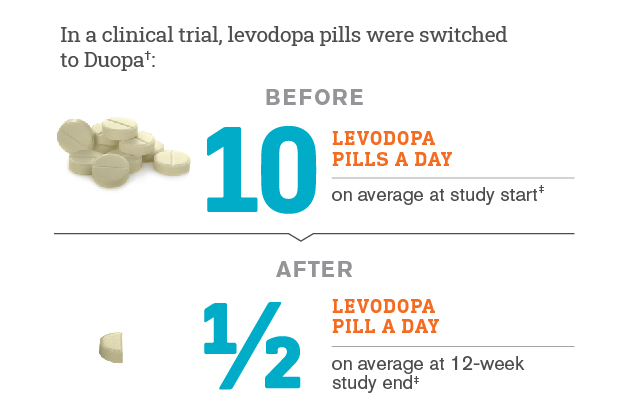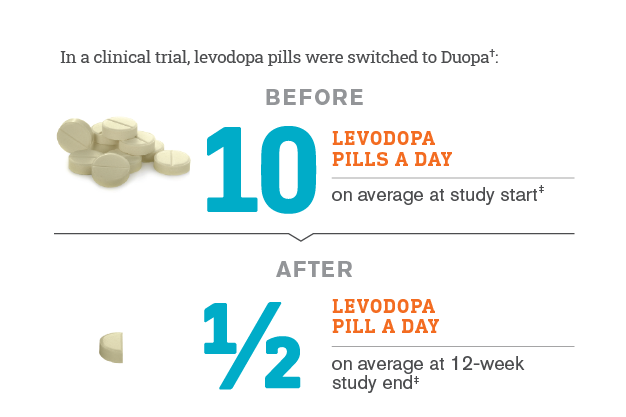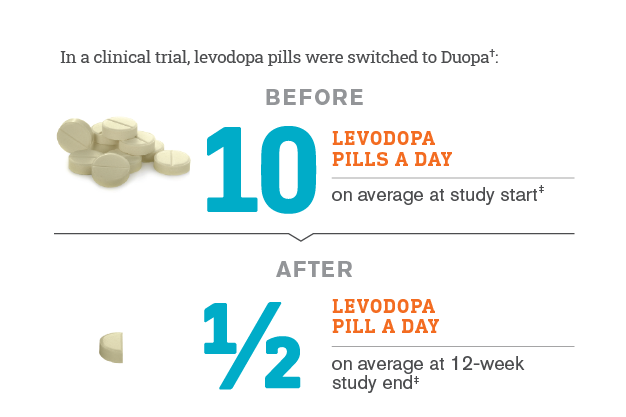 †Patients remained on other Parkinson's medications and could take carbidopa/levodopa IR pills as needed for nighttime or rescue.
‡Based on average oral levodopa dose (25-mg carbidopa/100-mg levodopa).
Your doctor will individualize your Duopa dose to meet your needs – and may adjust your other Parkinson's medications, too.
---
Think about how often you take levodopa pills. What if you had fewer interruptions in your day?
---
READY TO TALK ABOUT DUOPA?
Take this checklist to your doctor and ask them if it's time to change course.
Your levodopa pills aren't working as well for you anymore
You'd like to learn about getting back more time in your day
You want to know if you may be able to take fewer levodopa pills


Selected Important Safety Information
Stomach or intestine problems and problems from the procedure you will need to have to receive DUOPA may occur; some of these may require surgery and may lead to death.
Serious side effects may include: a blockage of your stomach or intestines (bezoar); stopping movement through intestines (ileus); drainage, redness, swelling, pain, feeling of warmth around the small hole in your stomach wall (stoma); bleeding from stomach ulcers or your intestines; inflammation of your pancreas (pancreatitis); infection in your lungs (pneumonia); air or gas in your abdominal cavity; skin infection around the intestinal tube, pocket of infection (abscess), or infection in your blood (sepsis) or abdominal cavity may occur after surgery; stomach pain, nausea, or vomiting. 
The most common side effects of DUOPA include: complications of tubing placement procedure, swelling of legs and feet, nausea, high blood pressure (hypertension), depression, and mouth and throat pain.